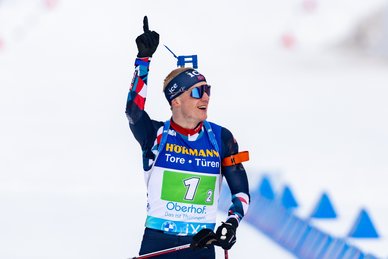 Good start to the presale: Almost one third of the tickets for the BMW IBU World Cup Biathlon 2024 in Oberhof are sold.
Two weeks after the official start of advance ticket sale for the BMW IBU World Cup Biathlon 2023 in Oberhof, the Oberhofer Sport und Event GbmH reports a first success: The Biathlon fans have already secured around 28.000 tickets for the upcoming winter sports highlight in the first week of January 2024. Tickets can be purchased at the ticket shop at tickets.biathlon-oberhof.de as well as in the Tourist Information Oberhof (Crawinkler Straße 2, 98559 Oberhof).
Even after the BMW IBU World Championships Biathlon in February 2023 Oberhof attracts winter sports fans. This is shown by the current status of advance ticket sales for the BWM IBU World Cup Biathlon 2024 with 27.805 ticktes sold (Status 07.09.2023 9 o'clock). Around 20.000 tickets are available on each of the four days of the competition.
"Biathlon in Oberhof is and remains in demand. We are satisfied with the current level of sales, but we will not rest on our good start. The experiences of the last years show that tickets are bought more and more in the short term, which is why we will be vigorously beating the advertising drum in the upcoming weeks and months", says the Managing Director of the Oberhofer Sport und Event GmbH Bernd Wernicke.
Great demand for ARENA ticktes at the weekend
He said ARENA tickets are currently in particularly high demand for the weekend's competitions, when the men's and women's pursuit and relay races are on the program. "Double events are very attractive for the fans. But also the men's sprint on Thursday and the women's sprint on Friday promise absolute high voltage. In the fast race, the athletes have to show their best performance in the cross-country skiing and at the shooting range," says Bernd Wernicke.
For the two sprint days, the organizer has put together special packages for families and companies with the family ticket and the business ticket. If an adult buys a ticket for the attractively located family block A, a child up to the age of 17 is admitted free of charge. On weekends, children over the age of 10 must pay full admission.
Ideal gift for employees and clients
The special offer for companies applies to tickets for the men's and the women's sprint race on Thursday and Friday in the lower tier of the ARENA am Rennsteig as well as at the track - and is an ideal gift for employees and customers. Buyers of a package of ten tickets or more will receive a 25 percent discount. This offer cannot be booked via the ticket store, but via a form at www.biathlon-oberhof.com.