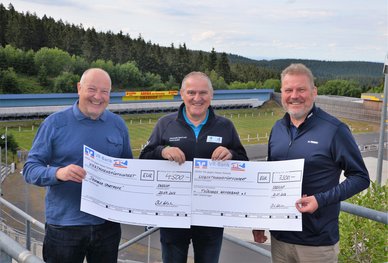 Two big checks for the next generation of winter sports enthusiasts: proceeds from the "Helden des Biathlons" event series donated
Thuringia's young winter sports talent can look forward to a fat financial injection of 12,000 euros: the proceeds from the "Helden des Biathlons" series of events, which took place during the BMW IBU World Championships Biathlon 2023 in Oberhof, have been handed over to the Thüringer Skiverband e.V. and Thüringer Sporthilfe.
"It was very important to us to think about the stars of tomorrow during the World Championships with successful athletes. Thanks to the event series "Helden des Biathlons" with highly interesting discussion partners from the biathlon scene, we were able to generate an amount that directly benefits the promotion of young winter sports talent", says Bernd Wernicke, Managing Director of the Oberhofer Sport und Event GmbH.
The Thüringer Skiverband e.V. can be pleased about a donation of 7,500 euros. "Winter sports depend to a large extend on voluntary work. We will use the money to honour the volunteers and their diverse ideas to bring the young talent forward. This creates motivation for further tasks, which is a big plus for children and young people", says president Frank Eismann.
4.500 euros go to the Thüringer Sporthilfe. "We are thankful for this valuable support for our promotion of young talent. The series of talks, which also included young and top athletes sponsored by us, not only provided added value for the guests at the events, but also used the proceeds to support young Thuringian athletes so that they can successfully make their way from talent to Olympic champion," emphasizes the Foundation's 1st Chairman, David Möller.
Series of events to be continued
During the BMW IBU World Championships Biathlon 2023 in Oberhof, the former stars of the biathlon sport, Simone Greiner-Petter-Memm, Gerald Hönig, Christoph Stephan, Erik Lesser, Katrin Apel, Frank Ullrich, Simone Hauswald, Alexander Wolf, Kati Wilhelm, Frank Luck and Andrea Henkel-Burke, talked about their own successful careers, but also took a look at the medal awards in the ARENA am Rennsteig. A total of 500 guests were thrilled by the format presented by LOTTO Thüringen in Oberhof and the World Cup region.
Due to the success of the premiere, the series of events will be continued during the next events in Oberhof. "We are currently in the process of modifying the offer. Our idea is to open up the series to other athletes as well. After all, there are great events coming up next year with the Cross-Country Skiing World Cup in Oberhof, but also the Summer Olympics and Paralympics in Paris, where Thuringian athletes will be represented," says Bernd Wernicke.