Tree sponsorships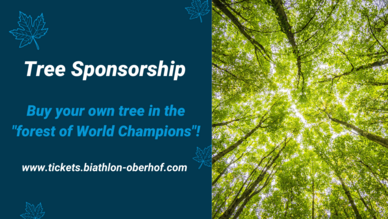 The organiser of the BMW IBU World Cup Biathlon 2024 in Oberhof not only has the current competitions in mind, but also the future of our Thuringian forests. Therefore, a special project has been launched for all fans and interested parties: the so-called tree sponsorships. These can be taken out in the official ticket shop. Based on the World Championships 2023, there are exactly 2023 trees to buy.
The following tree species are available for selection:
Beech (15 Euros)
medium sycamore maple (20 Euros)
silver fir (25 Euros)
The trees will be planted together with Thüringen Forst in 2024 at Greifenberg. The tree sponsors are cordially invited to attend. The campaign supports the reforestation of the Thuringian Forest, which has been severely damaged by climatic changes in recent years and by bark beetle infestation.
Active planting thus makes an important contribution to a healthy global climate and protects future generations. In this way, everyone has the chance to do something good for nature.