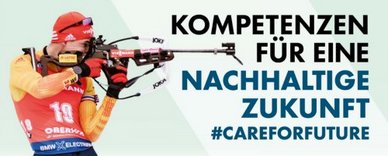 Sustainability
In the sport of biathlon we often set ourselves ambitious goals for success. For sustainable sports development we need a common vision of the future. Concrete plans of action are required. At the German Ski Association, we seek to protect our resources and implement the key elements of our DSV Sustainability Strategy 2030 #careforfuture. Our goal in Oberhof is to enable the next Biathlon and winter sports generations to benefit from outstanding events and a high-performance training base.
---
Become a tree sponsor
The "WM-Klimawald" is a sustainable project to secure the future of the Thuringian Forest. This involves the reforestation of the area on the Greifenberg in Oberhof, which you can see marked as a red dot in the picture on the left. Secure one of our limited trees now and sponsor it. By sponsoring a tree, you are safeguarding the future of the Thuringian Forest and thus the home of many animals.
As an additional experience, there will be a tree planting event with all tree sponsors in spring 2024.
Don't miss out on this unique opportunity!