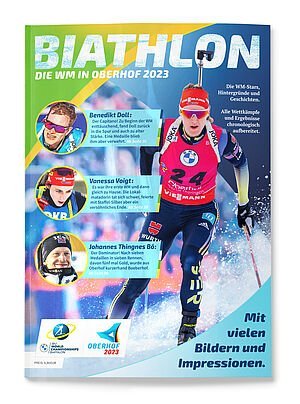 The magazine "Biathlon - The World Championships in Oberhof 2023"
From 8 to 19 February 2023, the biathlon world was a guest in Oberhof and celebrated a great World Championships. For the first time in 19 years, the Rennsteig was the venue for world championship titles and medals. The visitors not only saw world-class performances in the cross-country skiing and at the shooting range, the organisers, helpers and the whole region presented themselves as great hosts. The editors of the daily newspapers Freies Wort, Südthüringer Zeitung and Meininger Tageblatt not only reported on the sporting competitions, but also on this unique event in countless articles, portraits, interviews and colourful stories. The result is this magazine - a collector's item and memento for fans and participants so that this event will be remembered for a long time.
Price: 8.90 euros, 160 pages, with many photos.
Available now at the offices of Freies Wort in Suhl, Meininger Tageblatt in Meiningen or at www.lesershop-online.de.