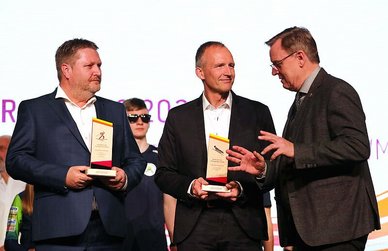 Great honour: World Cup organisers receive special prize of Thuringian sport
The organising committees of the two World Championships have been honoured with the Special Award of Thuringian Sport. Representing the large band of helpers, Thomas Grellmann and Bernd Wernicke, the two OC heads of the BMW IBU World Championships Biathlon 2023 in Oberhof, accepted the special award during the "Thuringian Sportsman of the Year" event in the Festhalle Ilmenau.
"The prize, which we awarded for the first time ever to biathlete Erik Lesser last year, is a symbolic thank you for hosting these two international competition highlights with great charisma for the Free State and Thuringian sport, and is directed not only to the OCs but above all to the more than 1,300 volunteers who were on duty at the World Championships," thanked LSB President Prof. Dr. Stefan Hügel in his laudatory speech. He presented the award, which recognises social commitment to Thuringian sport in a special way, together with luge world champion Dajana Eitberger from Ilmenau, the former national biathlon coach Mark Kirchner, Prime Minister Bodo Ramelow and David Möller.